06-22-2014
NivuFlow 750 - Transmitter with intuitive operation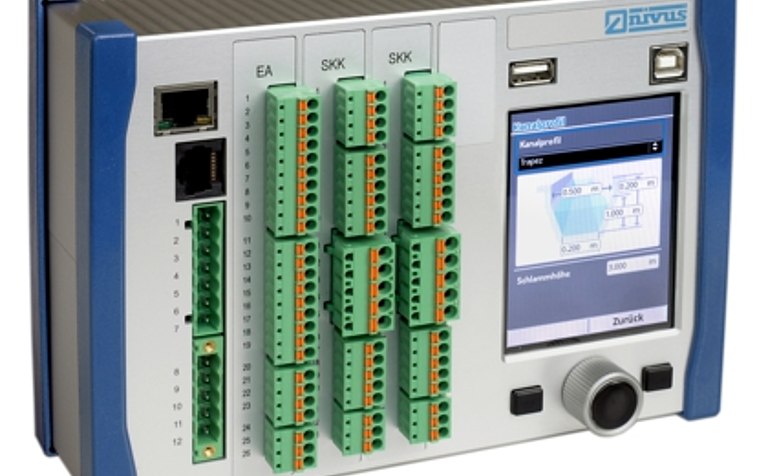 NivuFlow 750 is the successor to the well-known OCM Pro CF. The compact dimensions of the new transmitter allow to install the unit on DIN rails and in switching cabinets even under confined conditions. The connecting options using plug-in terminals on the transmitter front ensure quick and reliable wiring as well as to quickly exchange the transmitter without tools. The modern menu-based operation with rotary-push button and colour display allows quick and easy commissioning of the measurement system on site. Additional input devices or software are not required. The internal memory contains all common channel shapes and pipe geometries so that only the dimensions need to be entered. This additionally facilitates and expedites commissioning.
Comprehensive diagnostic functions support users during the commissioning procedure as well as with maintenance and hence save more time and costs.
New numeric discharge models saved in the transmitter's internal memory allow more accurate and reliable determination of flow rates even under difficult measurement conditions. Based on the ultrasonic cross correlation method the system detects single velocities at different levels of the flow profile where the real 3D flow profile is computed from. Several factors having an influence such as channel shape, discharge behaviour and wall roughness are considered accordingly while calculating the flow.
In addition to the compact DIN rail enclosure there is a weatherproof on-site enclosure available featuring IP67 protection degree as well as plenty of connection space for outdoor installation.
The NIVUS group is a leading developer, manufacturer and supplier of measurement instruments for water industry. For more than 45 years the company has been pointing the way ahead in measurement technology, continuously developing new products and practice-oriented solutions. Based in Eppingen, Germany, NIVUS operate seven international subsidiaries and co-operate with more than 40 distributors all over the world.
Downloads
NivuFlow 750 - Transmitter with intuitive operation