10-24-2023
NivuFlow 600 WS - Transmitter for precise drinking water flow measurements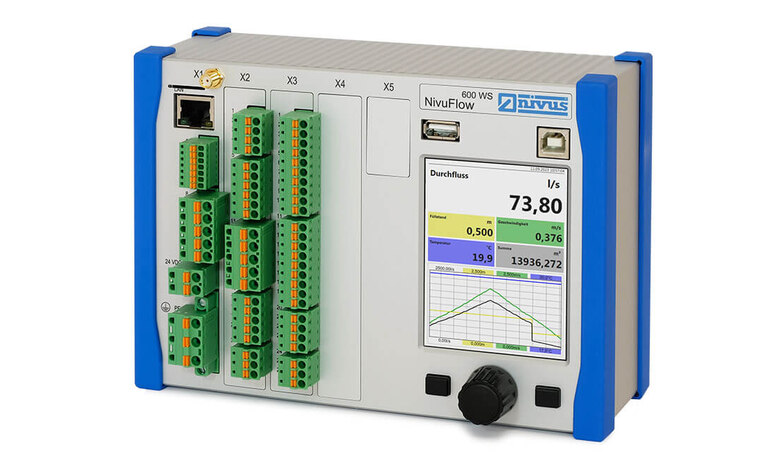 The measurement system stands out with its simple installation without the need to interrupt the process as well as with its very high measurement accuracy.
The IP68 clamp-on sensors are clamped onto the pipe from the outside. This uninterruptible mounting means that it is not necessary to open and, if necessary, cut the pipe and then flush the pipe. The sensors do not come into contact with the drinking water and guarantee absolute hygiene. This makes the measurement system suitable for retrofitting to existing systems.
Commissioning is simple and straightforward thanks to the menu-supported sensor alignment. The measurement system is suitable for all common pipe materials and pipe linings and can also be installed directly in the ground without the need for a shaft structure. With its ability to monitor all system-relevant parameters such as flow rate, flow velocity and temperature, it offers comprehensive control options. The intuitive operating concept of the transmitter enables quick commissioning and also on-site diagnostics. With IoT-ready function and global 4G connection, it is designed for maximum availability and digital services.
NivuFlow 600 WS offers very high measuring accuracy even at the lowest flow velocities. The system also has comprehensive measurement dynamics and is also suitable for bidirectional measurements.
Typical applications include flow measurements in drinking water tanks, pumping stations and treatment plants. The NivuFlow 600 WS is also suitable for leakage monitoring in the drinking water network with simultaneous monitoring of the temperature relevant for hygienic operation.
Downloads
Press Release: "Transmitter for precise drinking water flow measurements"