---
We are a leading international supplier of innovative measurement systems and software solutions for process engineering. With more than 50 years of experience in the water industry sector, we develop and produce metering systems for level measurement and flow measurement as well as application-oriented measurement systems. Providing a consistent automation software and cloud platform up to a process control system we offer bespoke IoT solutions and help our customers to analyse and to optimise processes and plants.
Reliable Measurement Systems
The range of NIVUS measurement systems, besides equipment for flow metering and flow velocity detection, includes level measurement systems as well as equipment for the recording of water quality, too. These systems are available for permanent installation and for mobile use. Our metering solutions are mainly used in water and wastewater applications. Moreover, our measurement systems are used in water supply, in the surface water area, in wastewater treatment plants or sewer systems and in the hydropower sector. In combination with experts-based individual advice our measurement equipment provides our customers the best possible system for the respective measurement task.
The NIVUS IoT solutions support plant operators when it comes to monitor, to understand and to control processes even better. The operator at any point in time obtains an overview on current and historic data regarding decentralised processes as well as the entire system. By analysing process data trends can be determined and systems can be optimised e.g. thanks to predictive maintenance. Our manufacturer-independent cloud and IoT platform allows integration of various sensors and actuators. Partners and end users hence benefit from the possibility to have a well-developed infrastructure for their business applications available. Moreover, it is possible to integrate multiple platforms to create higher system solutions without any problems.
We supplement our measurement systems and software solutions with a comprehensive range of services. Starting with equipment commissioning up to the implementation of complete measurement campaigns we flexibly adapt to meet your particular requirements. Based on customer request we can install the complete measurement system and set up automatic data transmission too. Additionally, we can set up devices in our digital portals and systems. We supply the measurement systems for measurement campaigns, we look after correct installation and dismantling and we make sure that readings are recorded and saved continuously. Data will be analysed thoroughly and you will receive a comprehensive final report on the measurement project.
---
Flow Measurement for water and waste water at highest level. Very high accuracy - reliable measuring data - universal usability for all types of channels and pipes - full or part filled. Best measuring results due to velocity measurement spatial allocation.
Flow Measurement on highest Level
Our brochure Products & Services gives you an overview to our product range as well as our measurement technologies for flow measurement, level measurement, data logging and telecontrol as well as water analysis.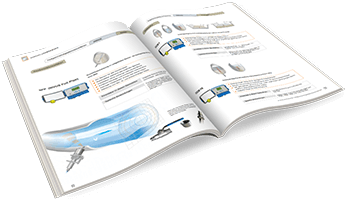 ---