04-05-2017
NivuFlow 7550 - Hybrid Flow Metering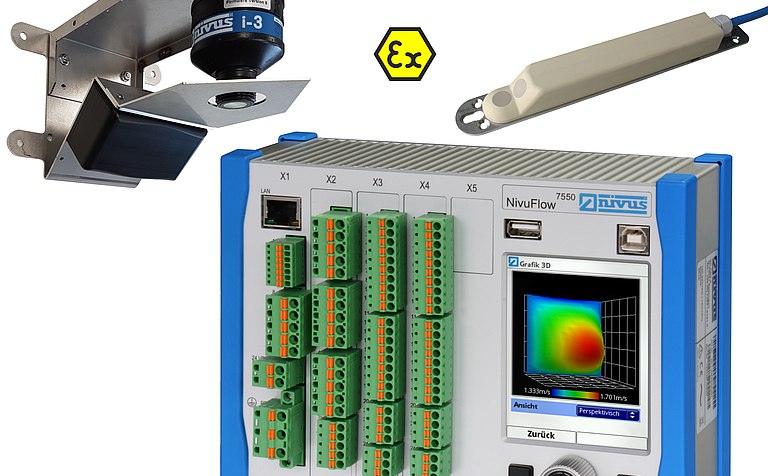 Introducing the new NivuFlow 7550 the measurement systems manufacturer from now on provides a hybrid metering system for flow rate detection besides measurement systems based on ultrasound and radar technology. In addition to flow velocity determination using radar the transmitter is designed to detect velocities by using the ultrasonic cross correlation method. So the complete measurement system is equipped with two flow velocity sensors, one level sensor and the NivuFlow 7550 hybrid transmitter.
Depending on the sensor installation position and the filling level there are two basic applications for hybrid metering: hybrid metering as measurement range extension (e.g. impounding in canals) to make sure the measurement covers the entire range and hybrid metering as redundant systems to increase accuracy.
The hybrid measurement system benefits from the advantages of both technologies. Thanks to the ultrasonic cross correlation method the velocities are measured in various flow levels. This not only enables to map the flow profile but also to increase the accuracy of the entire system. The radar sensor is installed outside of or above the medium and hence is ideally suited for applications featuring sedimentation. Measuring the surface velocity using radar moreover helps to increase the determination of the hydraulic model prevailing.
Upon request the complete system is also available for use in Ex zone 1.
The compact transmitter design permits easy and space-saving installation in control cabinets using DIN rails. A field enclosure is available for outdoor use.
The graphic display and the transmitter's intuitive operating concept allow quick and easy commissioning of the flow measurement system. Thanks to extended diagnostic options running processes can be analysed professionally directly on site. Flow rates are calculated based on latest fluid-dynamical models. Furthermore the unit provides remote maintenance options via Internet.
Find <link https: www.nivus.com en products flow-measurement polluted-media flowmeter nivuflow7550 external-link-new-window>more information about hybrid metering system for flow rate detection
Downloads
Press Release "NivuFlow 7550 - Hybrid Flow Metering"