Description
Capacitive ceramic measurement cell
Large front-flush diaphragm
2-wire probe
High overpressure resistance
Integrated overvoltage protection
This hydrostatic level probe has been developed to meet the high demands of industry and environmental protection.
The stainless steel (1.4571) probe body is locked by a capacitive ceramic measuring cell at the bottom and is held by the self-supporting cable on the top.
The probe can be suspended by using a straining clamp.
The non-corrosive enclosure featuring protection IP68 permits universal use for reliable determination of levels in containers, basins, shafts and tanks. The large diaphragm has proven as very reliable, particularly in the wastewater sector.

NivuBar Plus II features ex approval II 1G Ex ia IIC/IIB T4 for Zone 0 as standard and can be installed in any explosive area.

Utilising the widely used 2-wire technology, the installation costs are very low.
Typical applications for NivuBar Plus II
Pump shafts
Channels
Stormwater treatment plants, storage sewers, retention tanks and discharge constructions
WWTPs (screening control, tank levels, sludge tanks, levels in open channels)
Industrial wastewater networks
and many more
Technical Data
Common
Power supply
12 to 36 V DC
Ex: 12 to 28 V DC

Enclosure
Stainless steel 1.4571
diaphragm: ceramics (AL2O3)

Protection
IP 68
Measurement principle
capacitive
Measurement range
1, 2, 4, 6, and 10 mH2O
special measurement ranges upon request


Accuracy according to IEC 60770
0,25 % / 0,35 % FSO
Long-term stability
± 0.1 % FSO / year
Ex-Approval
II 1G Ex ia IIC/IIB T4 IBEx U05 ATEX 1193X
Operating temperature
-10 °C to +70 °C
Storage temperature
-25 °C to +70 °C
Cable
ø9 mm Polyurethane
Cable lengths
10, 20, 30, 50, 100 m
special lengths upon request

Outputs
4 - 20 mA, 2-wire
Load
600 Ohm / 24 V
1000 Ohm / 32 V

Specifications subject to change.
Downloads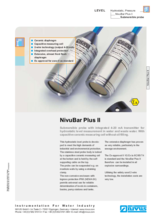 Data Sheet NivuBar Plus II
Submersible probe with 4 – 20 mA transmitter for hydrostatic level measurement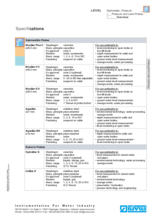 Overview Pressure Probes
Overview on submersible and screw-in probes for hydrostatic level measurement
Tender Specification Hanging Pressure Probes