Description
cost-efficient to purchase
Easy to install
Ex-enabled
robust
The electrodes are used for conductive detection of limit levels. The areas of use cover all sectors where liquid and conductive media are to be detected or controlled.
Limit value measurements (overflow, dry run, max. alarm) as well as min./max. control and pump control (hysteresis) can be implemented.
Construction
The electrode consists of an enclosure with up to 5 rod electrodes/suspension electrodes. The unit can be fastened using a G 1 1/2" or G 2" connection thread together with a wall mounting angle.
Function
A low alternating current flows once the electrode is submersed into a conductive liquid. This alternating current is evaluated by the switching amplifier (electrode relay).
Exceeding an adjustable trigger threshold will energise the according relay.
Typical applications for suspension and rod electrodes
Shafts/containers with pump control
Overflow messages and limit level monitoring
Limit level messages for release/counters on stormwater treatment plants
Monitoring according to WHG
Overfill protection
Dry run protection
and many more
Technical Data
Common
Rod Electrodes
max. operating pressure
10 Bar
Material
Enclosure: Polypropylene
Rods: stainless steel 1.4571
Coating: Polyamide


Operating temperature
-20 °C to +90 °C
Storage temperature
-30 °C to +100 °C
Suspension Electrodes
max. operating pressure
No pressure
Material
Enclosure: PVC
Cable: PVC
Electrode body: PVC


Operating temperature
-20 °C to +60 °C
Storage temperature
-30 °C to +70 °C
Specifications subject to change.
Downloads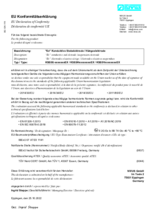 Declaration of Conformity "Ex" Conductive Rod and Suspension Electrodes
"Ex" Konduktive Stabelektrode / Hängeelektrode
KSE0E-xxxxxxxEX / KSE0HxxxxxxxxEX / KSE0VxxxxxxxxEX