Description
Measurement of level, distance, volume, difference and flow
Alarm output in case of flooded sensor possible
Pump control saves energy and costs thanks to intelligent pump management
High measurement reliability through intelligent agitator avoidance
Connection of maintenance-free, Ex-protected radar and ultrasonic sensors
Up to 6 relays and galvanically isolated mA outputs
Easy echo analysis and setting of parameters using free PC software
Integrated emergency power switchover
Easy operation in dialog mode using back-lit graphic display
The NivuMaster series transmitters supply connected R- Series and P-Series sensors, process measurement values and indicate readings. NivuMaster transmitters are ideally suitable for simple control tasks in level measurement applications. Flow measurements in open channel using a Venturi flume or Q/h-relations, on any kind of weir or discharge sills are possible without any problems.
NivuMaster is available with wall mount enclosure, as 19"-plugin or with panel mount enclosure.
The few parameters required for measuring can be entered easily on site in dialog mode thanks to the back-lit display and the integrated keypad.
Parameters can be evaluated using the free software "PC Software Suite" and the serial interface of the transmitter.
Type overview
NivuMaster L2 (NMX)
Compact standard model with 2 relays for level and volume measurement.
NivuMaster 5 Relais (NM6)
Extended NivuMaster for measurement of level, volume and quantity as well as for control of pumps and elaborated control tasks.
Typical NivuMaster Applications
Wastewater: stormwater overflow tanks and storage sewers, clarifiers, pump stations, screening plants, flow measurements, volume measurements in vessels, container monitoring, irrigation facilities
Drinking water: tank level measurements, water treatment, seawater desalination facilities, level measurements
Flood protection: stormwater retention tanks, level measurements with remote data transmission, surface waters
Power generation: cooling water circuits, hydropower plants
Downloads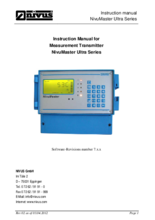 Instruction Manual NivuMaster (NM5+NM6)
Instruction manual for measurement transmitter NivuMaster-Series
Tender Specification NivuMaster 5-Relays (NM6)