03-23-2016
3 Flow Measurement Sites with one Transmitter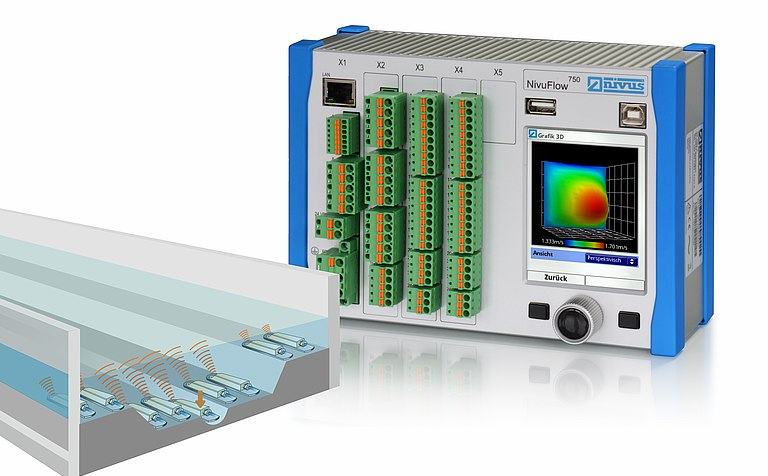 The manufacturer presents a transmitter capable of simultaneously measuring up to three different measurement places with 9 flow velocity sensors in total. This means less installation expenses, low space requirements for installation in control cabinets and simultaneous access to 3 measurement sites using merely one communication interface.
By using the new version operators are free to distribute the number of flow velocity sensors per measurement place as desired. Moreover it is possible to use up to 9 sensors for a measurement place featuring a very large measurement cross section. This allows highly accurate flow rate measurement even in very wide canals and flumes featuring poor hydraulic conditions.
The transmitter furthermore provides the option to mathematically summarise a total value based on readings from different measurement sites. The NivuFlow 750 M9 completes the manufacturer's family of cross correlation devices for open channels and flumes as well as for part filled and full pipes.
Thanks to latest numeric discharge models integrated, the NivuFlow 750 units provide even more accurate and more reliable flow rate determination even under difficult measurement conditions. Based on the ultrasonic cross correlation method, individual velocities are detected in different levels within the flow cross section. This allows the calculation and indication of real 3D flow profiles in real time. Influencing parameters such as canal shape, discharge behaviour and wall roughness are considered to calculate the flow rate.
Comprehensive diagnostic functions facilitate commissioning and maintenance of the transmitters and help operators to save time and costs.
Find more information about the <link https: www.nivus.com en products flow-measurement polluted-media flowmeter nivuflow-750-flowmeter external-link-new-window>flow measurement transmitter NivuFlow 750
Downloads
Press Release NivuFlow 750 M9