04-19-2017
NIVUS wins Water Dragon Award 2016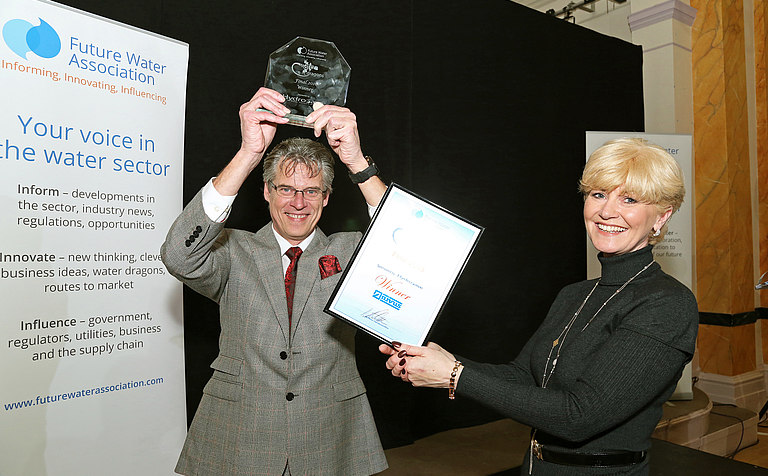 After winning the regional heat at Severn Trent's Headquarters back in September the manufacturer of high accurate flow measurement systems wins the national UK Innovation Award with their Cross Correlation Pipe Sensor. The NIVUS team picked up its award at the Future Water Association's annual lunch which was held at the Pump Rooms in Leamington Spa on 23rd February 2017.
The award winning flow sensor measures the flow directly within the pipe which is far superior to regular Clamp-On-Systems which can only measure from the outside. Why go to the concert and only listen behind the door? Nivus advanced technology and superior signal quality equals more reliable measurement results. Considered a game changer the NIVUS solution proves to be smart. Benefits are numerous, easy installation without shutting down the flow is distinctly advantageous as well as delivering a low carbon footprint.
The judges were impressed by the unique flow sensing technology developed by NIVUS which creates an audio image of particles within the wastewater to increase the flow measurement accuracy. Furthermore they gave recognition for the easy installation which allows the insertion/removal without the need for 'pipe shutdown' as well as delivering the Totex based solution for the application favorably compared to existing flow measurement devices. And not least the judges also commended Alison Southwood and David Miles for a strong presentation clearly defining the business case.
David Miles, Business Manager for NIVUS in the UK explains the importance of winning this award, "This recognition for our Cross Correlation Pipe Sensor comes at an exciting time for NIVUS as we are seeing some fantastic results on sites throughout the UK on both fresh and waste water systems. Combining our technology with existing applications is proving highly successful as for the first there is now a method for achieving a true and accurate measurement of flow"
NIVUS UK Innovation Manager, Alison Southwood, convinced the audience with the advantages of the pipe sensor solution. She states, "Winning the Innovation Award is a reward for all the efforts we put in developing the high accurate and easy to handle measurement system. Now we are looking forward to using this valuable endorsement to promote the advantages of our smart flow measurement solution to a wider audience."
Downloads
Press Release "NIVUS Dragon Award"