Description
Very high accuracy by means of ultrasonic cross correlation method
Interference-free connection over long distances through digital signal transmission
Cables can be extended without any problems using standard cables
Absolutely stable zero point and drift-free
Measurement in heavily polluted and abrasive media
Easy installation without additional constructions and perfectly matched mounting accessories
Installation under process conditions possible
Particularly suitable for pipe sections starting at 1000 mm diameter
CS2 flow velocity sensors are suitable for continuous measurement of slight to heavily polluted media.
The pipe-shaped sensors are designed for installation in pipes from the outside using a nozzle. Combined with transmitter types such as NivuFlow 750 and an external level measurement the result is a complete flow measurement system.
Typical applications for CS2 pipe sensor
Channel networks: billing measurement places, flow measurement in large pipe sections
Wastewater treatment plants: intake, discharge, activated sludge tank intakes, return sludge, recirculation, surplus sludge, digester discharge and flocculant dosage
Industrial wastewater networks
and many more
Technical Data
General
Measurement principle
Ultrasonic Cross Correlation with digital pattern detection (flow velocity)

Ultrasonic transit time (level measurement)


Zero point drift
absolutely stable zero point
Sensor types
v-sensor with T-compensation
Protection
IP 68
Ex-Approval
II 2 G Ex ib IIB T4 Gb (ATEX)
Ex ib IIB T4 Gb (IECEX)
Operating temperature
-20 °C to +50 °C
-20 °C to +40 °C if using the sensors in Ex Zone 1

Storage temperature
-30 °C to +70 °C
Operating pressure
max. 4 bar (for combi sensors with pressure measuring cell max.1 bar)
Cable lengths
10/15/20/30/50/100 m pre-configured, can be extended upon request
Cable types
LiYC11Y 2 x 1,5 + 1 x 2 x 0,34 PA 1,5/2,5
Outside cable diameter
8.4 mm ±0.25 mm
Sensor connection
Cable end pre-configured for connection to OCM CF
Medium-contacting materials
Polyurethane, stainless steel 1.4571, PPO GF30, PTFE, PA6 GF30
Optional sensor resistant to chemicals made of PEEK, sleeve made of Hastelloy C-276; cable with FEP coating

Construction
- Wedge sensor for installation on channel bottom or channel wall
- Pipe sensor for installation in pipes with sensor screw joint and retaining element
Measurement uncertainty
for 0.05≤|V|≤0.5 m/s: E_v=0.5/|V| [%]
for |V|>0,5 m/s: E_v=1 %
Specifications subject to change.
Downloads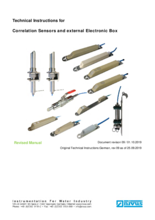 Technical Instructions Correlation Sensors
Technical instructions for correlation sensors and external electronic box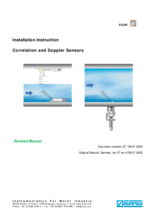 Installation Instruction for Correlation and Doppler Sensors
Installation instruction for save installation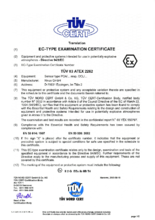 EC type examination certificate sensor type POA
EC type examination certificate sensor type POA incl. supplement

Declaration of Conformity Ultrasonic Active Sensors POA / OCL / CS2
Ultraschall-Aktivsensoren POA / OCL / CS2
Tender Specification CS2 Sensor
Haven't found the appropriate product?