Benefits
Intelligent 2-wire FMCW radar for direct connection to following systems
Commissioning with smartphone, tablet or PC via web-based user interface
Narrow beam angle with only 6 degrees
LED status indication for installation support and function messages
ATEX approval for Zone 0/1
Reliable and robust
The Ri-Series 2-wire sensors with FMCW radar technology provide ac­curate monitoring of liquids in standard and critical measurement applications, ensure absolute operational reliability and minimise costs through very low maintenance and service requirements. Highest reliability for level measure­ments under the most difficult environ­mental conditions due to very narrow beam angle and protection class IP68.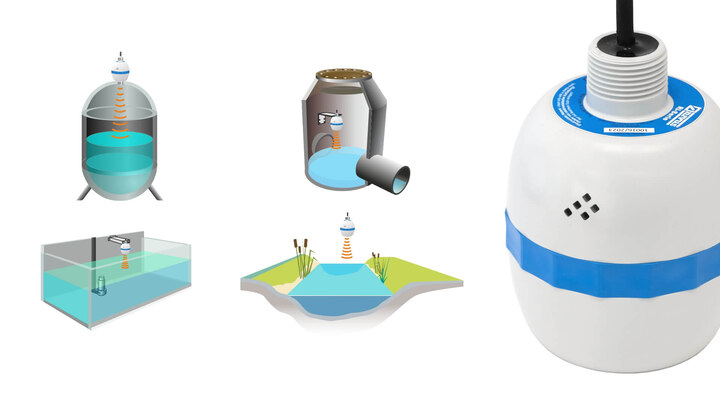 Typical Applications
Wastewater
Stormwater overflow tanks and sewer storage spaces, sedimentation tanks, pump stations, screening systems, flow measurements, volume measurements in tanks, container monitoring, irrigation systems

Drinking Water
Tank level measurements, water treatment, seawater desalination plants, level measurements

Flood Protection
Stormwater retention basins, levels with remote data transmission, surface water bodies

Power Generation
Cooling water circuits, hydropower plants

Industry
Containers and basins of any kind
Benefits FMCW Radar Technology
No influence by temperature fluc­tuations, wind, pressure or super­imposed gases
For applications with foam surface or vortex formation
Continuous surface detection
Communication
Unique and secure web-based user interface via Bluetooth
With a web-based user interface, the Ri sensor offers a simple and conven­ient way to change parameters, dis­play echo curves and change the Bluetooth range. This web app is accessible via any browser on any operating system (Windows, Android or iOS). Compared to a conventional app, no software and associated up­dates need to be installed.
Link to the user-interface: https://www.nivus.de/ri-app/
DTM via HART
A HART device DTM (Device Type Manager) is also available for the sensors, with which parameterisation is possible via the manufacturer-independent PACTware adjustment software.
PC Software via HART
Manual false echo blanking can be carried out via PC software if required. In addition, all important parameters for measurement range adjustment can be optimised and documented.
Mounting
Mounting is easy via the 1" BSP/NPT thread on the back. The sensors are also optionally available with a 1" front thread made of PVDF.
Technical Data
Common
Measurement principle
FMCW
Measurement range
75 mm up to 8 m or up to 20 m
Measurement frequency
V-Band (63 GHz)
Beam angle
6°
Power supply
12 - 28 V DC
Power consumption
3.8-22 mA, resolution 1μA, Max Start-up Current: 20 mA
Startup time
Cold boot = 10 seconds
Warm boot = 5 seconds
Housing Material
Valox
Process connection
Rear 1-inch BSP / NPT
Optional: Front 1.5-inch BSP / NPT
Protection
IP68 / NEMA 6P
Ex-Approval
Zones 0, 1, 2: Ex II 1G Exia IIC T4 Ga, Tamb.= -40°C to +80°C.
Zones 20, 21, 22 : Ex II 1D Exia IIIC T100°C Da, Tamb.= -40°C to +80°C.
Cable lengths
Standard: 5 m, 10 m, 20 m, 30 m, 50 m or 100 m (16.4 ft, 32.8 ft, 65.5 ft, 98.4 ft, 164 ft or 328 ft)
Outputs
4-20 mA, HART with DTM
Communication
Encrypted Bluetooth with mobile interface, Wireless Range 4 - 40 m (13.1 ft - 31.2 ft / User Configurable )
Display
Quad-color lights with tilt sensor
Weight
1,5 kg
Resolution
1 mm
Accuracy
2 mm
Specifications subject to change.