Description
Proven robust ultrasonic transit time technology
Adjustable accuracy utilizing up to 32 measurement paths
Quick and easy initial start-up
Application range from partly-filled pipes to channels and rivers up to 100m width
Remote datahandling and maintenance
Easy integration into control systems
Weatherproof version available
Compliant with N ISO 6416 and IEC 60041
Full overvoltage protection equipment available
IoT-ready with global 4G connectivity for highest availability and digital services
Energy-saving cycle operation for self-sufficient systems
General description
The NivuFlow 650 is compliant with ISO 6416, IEC 60041 as well as ISO 748 and has been developed for accurate flow measurement in open channels, part filled and full pipes and surface water bodies. To meet the highest possible accuracy requirements it is currently possible to utilise the NivuFlow 650 using up to 4 velocity paths, with extension modules up to 32 velocity paths.
The NivuFlow 650 operates over the full bi-directional flow range without causing obstruction or head loss where the large array of NIVUS transducer models permits flow measurement across the widest possible range of applications.
The compact transmitter design can be easily integrated into instrument cabinets using a DIN rail mounting system and is also available with a field enclosure that provides full protection under harsh environmental operating conditions. The transmitter's large graphic display allows quick and easy commissioning of the flow metering system.
The NivuFlow 650 provides extensive diagnostic options and allows in-depth analysis of operational function on site. The system has been developed using future-proof protocols complete with versatile choices for communication and I/O connections that open up a wide range of options for operators to integrate the instruments into SCADA or similar operating systems.
Typical NivuFlow 650 Applications
Measurement of surface waters such as rivers, channels and similar
Irrigation systems (volume distribution and billing)
Drainage systems
Hydropower plants (turbine efficiency and turbine optimisation etc.)
Inlets and outlets conducting cooling water or circulation systems
Penstock monitoring
Industrial process waters
and many more
Technical Data
Common
Power supply
85 - 260 V AC, 47 to 63 Hz or 10 - 35 V DC
Power consumption
1 relay energised, 230 V AC: (rounded) 14 W up to 8 sensors transit time 1 Mhz / other freq. 200/500 KHz
Housing Material
aluminium, plastic

Weight
approx. 1150 g
Protection
IP 20 (control cabinet), IP 68 (field enclosure)
Operating temperature
DC: -20°C to +70°C
AC: -20°C to +65°C
max. humidity: 80%, non-condensing
Display
240 x 320 pixel, 65536 colours
Operation
rotary pushbutton, 2 function keys, menus in English, German, French, Swedish ...
Inputs
2x (Type T2) 4-20 mA, with 12 Bit resolution for storage of data from external units, load 91 Ohm
2x (Type T2) digital input
Outputs
2x (Type T2) 0/4-20 mA, load 500 Ohm, 12 Bit resolution
1x (Type T2) relay SPDT, load up to 230 V AC/2 A (cos j 0.9), min. switching current 100 mA
1x (Type T2) bistable relay SPDT, load up to 230 V AC/2 A (cos j 0.9), minimum switching current 100 mA
Data memory
1.0 GB internal memory, readout on faceplate via USB stick
Communication/data transmission
Modbus TCP via network (LAN/WAN, Internet)
Modbus RTU via RS485 or RS232
Ethernet TCP/IP
Number of paths
1 up to 4 measurement paths, up to 32 measurement paths with extention modules
1 up to 2 measurement places
Specifications subject to change.
Downloads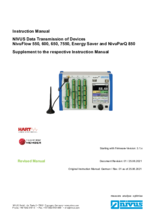 Technical description data transmission - addition to manual Rev01
NIVUS data transmission for NivuFlow 550, 600, 650, 7550, Energy Saver and NivuParQ 850 - addition to instruction manuals
Tender Specification "NivuFlow 650"
Haven't found the appropriate product?